The results of the
International Garden Photographer of the Year
2023 Still Life Competition are in. I had 4 entries, 3 were shortlisted and these are my results. A Finalist means being placed in the top 6. Congratulations to Cristina Wanjura from Germany who was awarded 1st place for her still life of the "Vegetable Kitchen" and to all the other finalists and placed winners. The full gallery of winners can be viewed here -
www.igpoty.com
Recently I designed some new backdrops for my flower photography and had them printed on vinyl matt material. Here are 2 of the designs with the same flower  composition of white, red and orange dahlias with a lily flower called Schizostylis.
Dahlias
September is Dahlia month. This year I grew some dahlias in large pots. They've done reasonably well but not many flowers. My wife's cousin donated some from her garden so I could capture their beauty. I love the variety and the colours.
A classic still life arrangement of fruit in a basket on a table. The composition is lit by a torch/flashlight. Textures were used in post-processing to give the photograph an Dutch Master look.
Cosmos is one of my favourite annual flowers. I've sown many varieties from seed over the years - Sensation, Cupcake, Sweet 16 and Purity. They just keep on giving right up to the first frosts. This one was from a mixed pack and I just love how the petals are so pleated and crinkled.
As my pears mature their colour and texture change and mellow. Again the compositions are light painted with a flashlight/torch to replicate the look of the Dutch Master paintings.
Pears Dutch Style
I have been waiting a long time to get some pears that weren't uniform in shape. Love how these pears bulge in all the right places. The composition was photographed in a completely dark room with the light of a torch/flashlight illuminating the composition. This is known as light painting and I use it to create a look that replicates the style of the Dutch Masters.
August marks the beginning of Autumn in the Celtic Calendar. This goes back thousands of years and is based around the agricultural year. However, September marks the start of Autumn in the meteorological calendar. Whichever point of view you take on this determines how you see the seasons. Certainly the weather at the moment is very autumnal and on one of my walks I did a bit of foraging and gathered some berries and fruit that I associate with Autumn.

Greeting Cards
This is my new range of greeting cards. 10 different designs and blank inside to write your own greeting. Suitable for all occasions. They will be on sale during Kilkenny Arts Festival from 11th - 20th August or contact me by email.
Sunflowers

These lovely sunflowers from the garden were photographed indoors in natural light. The weather outside was terrible with wind and rain. They added a little sunshine and joy on an otherwise dull day. They are uplifting and a sign of hope and positivity.
Pick them or lose them. With the wet and windy weather you can enjoy the flowers from your garden with a little indoor arrangement.
An arrangement of summer florals such as cosmos, sweet pea, anemone, pelargonium, mallow, sidalcea and cornflower
Still Life with roses and fruit.  The roses include "Schoolgirl", "Rachel" and "Boscobel". The colours in the fruit, peaches and apricots, complement the colours in the roses.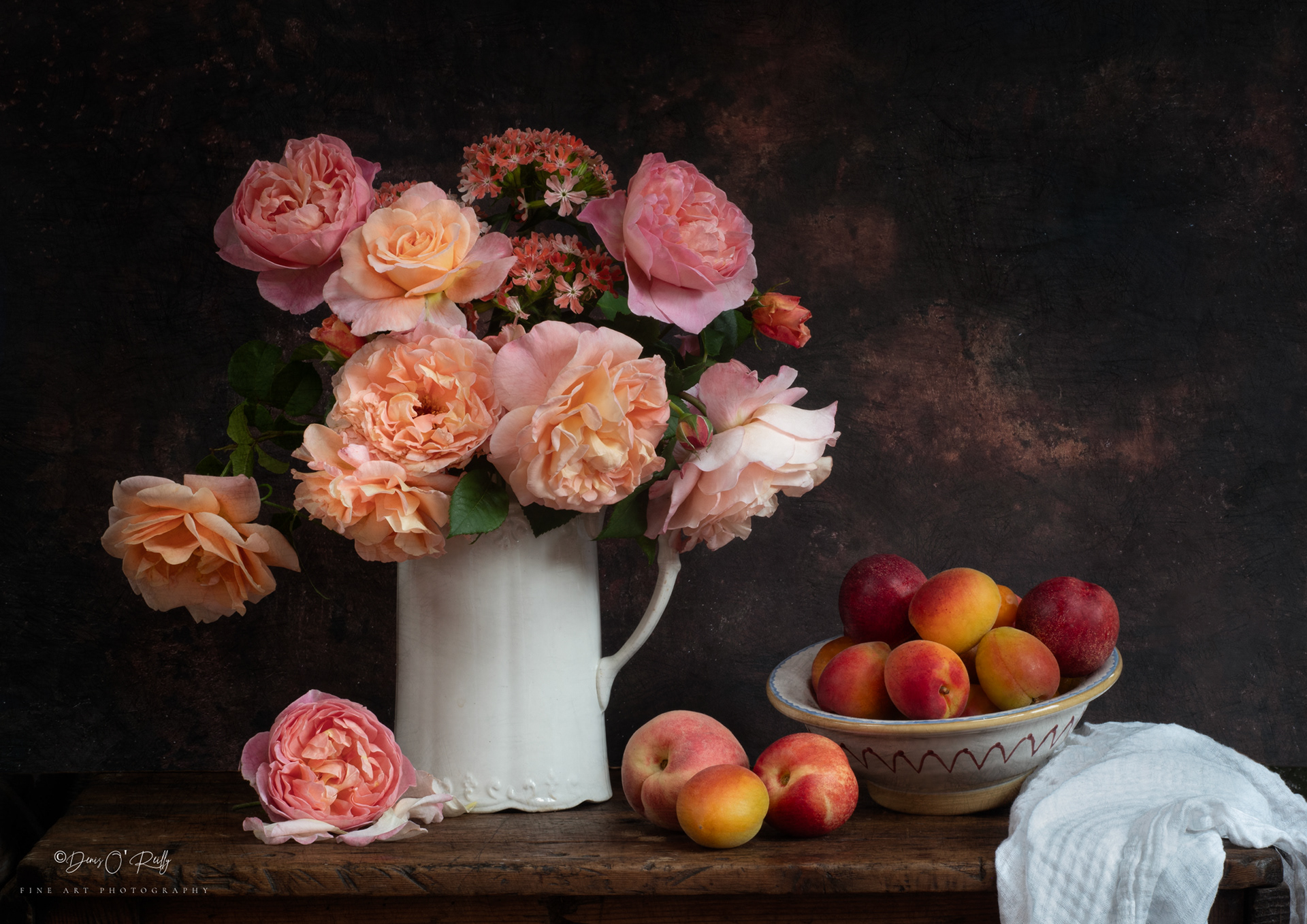 Roses from my garden. They just keep giving. And in to the garden I go to lose my mind and find my soul.
This lovely arrangement includes a soft peach/apricot rose called Rachel, combined with penstemon and "Purple Pimpernel" sweet pea.
Fragrant Roses

The June garden is lush with fragrant roses. This arrangement includes Gruss an Achen, New Dawn, Rachel and Perpetually Yours. Enjoy the summer garden
Summer Bounty
A beautiful arrangement of summer flowers from the garden including foxgloves, lupins and peonies. Very reminiscent of the cottage garden.
Past Perfect
These tulips I had used for another still life. When they were past their best I threw them in the compost bin. Whatever way I looked at them I decided to rescue them for one more performance. There's beauty in every stage of life.
Flatlay
My first attempt at a flat lay composition. With ranunculus and polyanthus petals in a pinky peach hue.
Something to uplift the mood when 
"winter lingers in the lap of Spring."

An arrangement of Spring Blossoms. Here I gave the image a painterly look by overlaying some textures on the flower and using a layer mask to remove textures from main part of flower arrangement. 
Forget me not or Myosotis
Forget-me-not flowers symbolise true love and respect. When you give someone these tiny blooms, it represents a promise that you will always remember them and will keep them in your thoughts. They are also considered a symbol of fidelity and faithfulness. The Forget me not flower is the symbol representing Alzheimer's disease and other forms of dementia.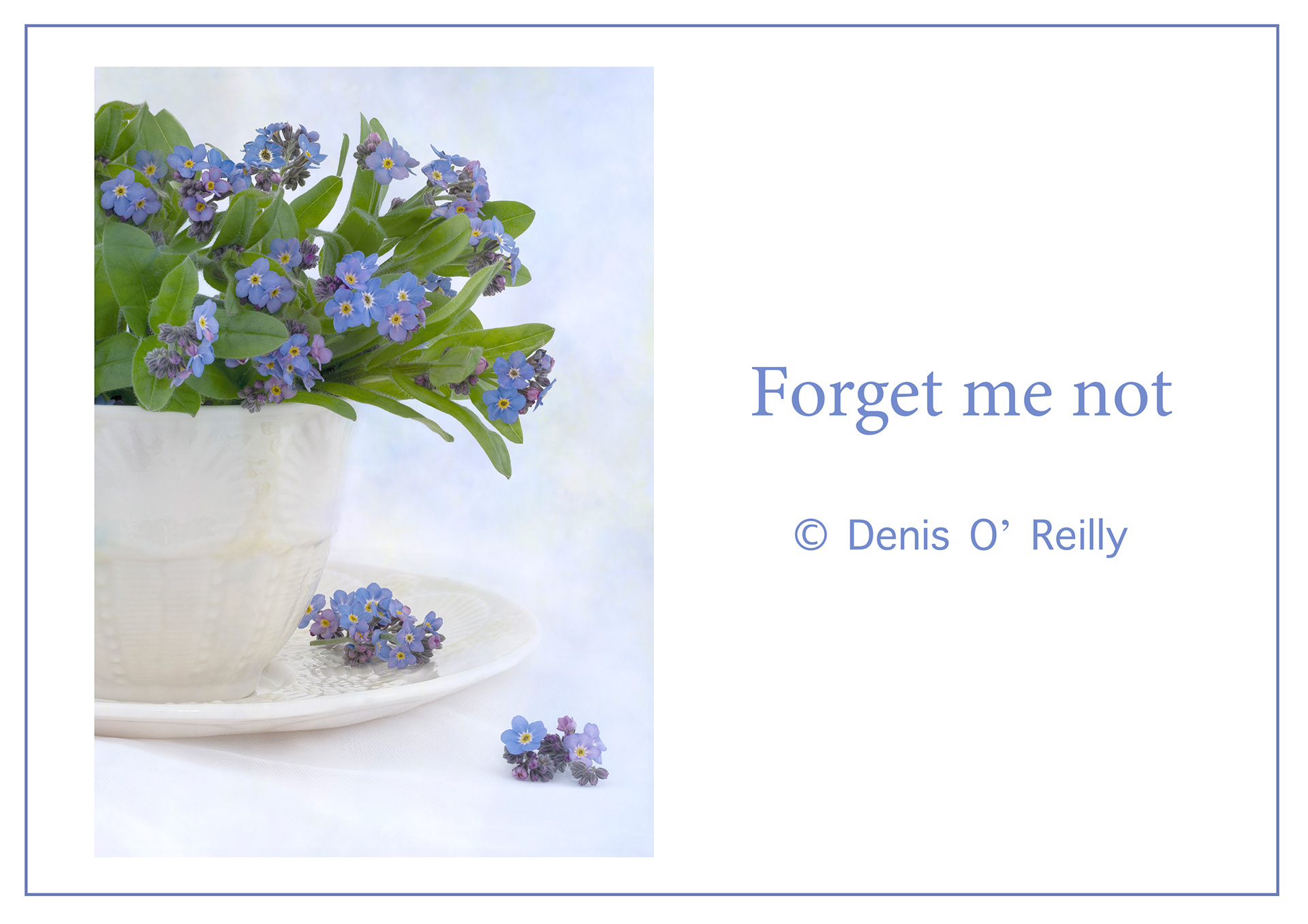 Cowslips and Primroses
Thanks to my friend Marian who gave me these beautiful flowers from her garden. They remind me of childhood days when these grew naturally in the nearby fields.
Heavenly Lilac
I would be hard pressed to name my favourite flower as I have so many favourites. However, I would have to place lilac near the top of the list. Lilac and Cherry Blossom bring back childhood memories.